Published by Alessandro Violante on December 29, 2016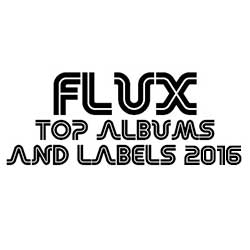 Another year is closing and FLUX Webzine, which in 2016 experienced several changes although always staying loyal to its mission, currently the result of Alessandro Violante's and Davide Pappalardo's efforts (plus guests Marco De Baptistis, Andrea Piran and Anita Neukirch), have written down their personal top 10 albums and a single top 5 of the most interesting labels we have particularly appreciated this year. We had to choose among hundreds of interesting releases and it's been very hard to limit ourselves to this list. Two distinct top tens represent the two different personalities and tastes of two persons who share the same passion. The chart has no particular ranking order. Let's go with the charts!
Alessandro Violante Top 10 Chart
Somatic Responses – Folding Space (Hymen Records)

Somatic Responses made another complex, smart and well-composed blend of several electronic music styles, as IDM, ambient and rhythmic noise, demonstrating once again how good they're at building various songs in which their detailed sound research is clear.
Meta Meat – Metameat (Audiotrauma Records)

Meta Meat's first album is a particularly interesting example of the fusion between Audiotrauma and Ant-Zen sound. Phil Von and Some Kilos have celebrated the concept of rhythm though a journey into distant places, making the tribal rhythm communicate very well with it's distorted post-industrial variation. More than a particular rhythmic noise album, is a research to the roots of rhythm itself.
Various Artists – Succubus Soundtrack (Phantasma Disques)

Phantasma Disques is an hidden presence in underground music, a dark ethereal entity with no eyes proposing several witch house interesting projects and particular Art Horror movies. Succubus is a very particular movie with a kaleidoscopic soundtrack, in which several approaches coexist and in which witch house matter is explored and manipulated in its entirety. The result is a great example of what the genre is and what can be like.
Le Moderniste – Desistere Mortem Timere (Hands Productions)

Le Moderniste, after some classic rhythmic noise albums, took a slight different direction, melting highly distorted beats with death industrial typical trademarks, and the result is a journey through the darkest places, a very mature and various album in which everything is in its right place.
Drama Emperor – All Of These Days (Alienated Records)

Drama Emperor are one of the best Italian post-punk / post-rock projects currently active. All Of These Days is a various album in which each song has its particular sounds and its identity. Cristiano Ballarini and Michele Caserta are two very talented musicians that break the rules of post-punk and create a fusion of styles perfectly mixed together.
Alles – Culture (Antena Krzyku)

The new Alles album, Culture, is more than a minimal synth good release, it's a manifest of the Polish identity and of its culture. It's an out-of-bounds work that tries new ways to reinvent the rules genre. It's the result of a difficult period, in which the ghosts of past wars seems to echo once again. Culture dares the listener asking for great attention for its details.
Axiome – L'Avenir Est Un Cerf Teint (Ant-Zen)

Axiome's new album isn't anything new in their career but is a great effort of sound research applied to IDM and rhythmic-based industrial. Multiples ways are explored, from classic syncopated beats to IDM and to dark electronic soundtrack-like episodes. The whole album is pervaded by acid sounds, always put in the right place. Axiome's new album shows two very mature artist capable of creating an album that never bothers the listener.
Tetrolugosi – Tetrolugosi II (Self released)

Tetrolugosi began their adventure a couple of years ago and published an interesting first album, but only with Tetrolugosi II they've gained a very good production, they've made an uncommon concept album and they've become more mature. Tetrolugosi II is a pretty unique album, which reads synth pop, synthwave, ethereal with their horror-like lenses.
Mitra Mitra – Selftitled (Micromort Music)

Mitra Mitra's debut has a very minimal taste and production, emphasizing the skills of Mahk Rumbae and the acid vocals of Violet Candide. A debut different from the others in their genre for the general mood, its beats and its sounds. You can clearly perceive the touch impressed by the man behind Konstruktivist, Codex Empire, Ghost Actor.
Samuel Kerridge – Fatal Light Attraction (Downwards)

Samuel Kerridge's music doesn't need any explanation and he doesn't need any introduction. His new album, Fatal Light Attraction, explores new paths, and it's more free form. Its sound has a stronger live dimension, and his beats are more influenced by rhythmic industrial music. A very eclectic work.
Davide Pappalardo Top 10 Chart
Trentemøller – Fixion (In My Room)

Danish producer, DJ and musician Anders Trentemøller furthers his evolution with an album which mixes perfectly darkwave, post punk, and electronica.
Dead When I Found Her – Eyes On Backwards (Artoffact Records)
Arthur Holloway surprises us again with his fourth album, the most direct and violent of his career, showing once more his idea of electro industrial.
G.H – Housebound Demigod (Modern Love)
Gary Howell creates on of the most interesting and genre defying works of the year, with a brooding and dark atmosphere full of droning rhythms.
Orphx – Pitch Black Mirror (Sonic Groove / Hands Productions)
Canadian duo Orphx morphs once again while retaining its noise and industrial elements, choosing
EBM flavored dark techno as a new muse.
Sølve – The Negative (Audiotrauma)
Brant Showers solo project retains the melancholic and almost orchestral sound of ∆Aimon, twisting it in a more personal, ritualistic and experimental direction.
Kinetix – Urban Nightscapes (Tiny Speaker)
Italian artist Gianluca Becuzzi redefines the sound of his minimal electronic project moving between ambient, techno, and ritualistic rhythms.
SHXCXCHCXSH – SsSsSsSsSsSsSsSsSsSsSsSsSsSsSs (Avian)
The Mysterious Swedish duo goes beyond the concept of techno and experimental music taking an adventurous journey through the possibilities of different genres.
South London producer Kieran Whitefield stomps hard with his first full length, a work full of no-nonsense techno industrial juggernauts.
Alvar – Guilt Kollektion (Daft Records)
Swedish married couple J&J collect thirteen tracks coming from their cassette releases, mixing effortlessly techno, field-recordings, old school EBM, rhythmic noise and industrial.
Youth code – Commitment To Complications (Dais Records)
Californian duo Ryan George and Sara Taylor rediscovers the roots of old school electro industrial and EBM while maintaining a certain hardcore sensibility.
Top 5 labels
Audiotrauma / Hands Productions / Diffuse Reality / Artoffact Records / Modern Love