Published by Davide Pappalardo on June 30, 2019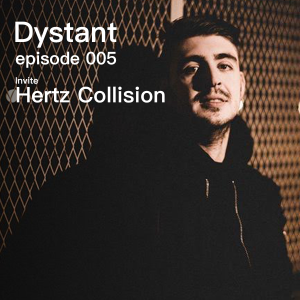 Hertz Collision is a duo formed by Francesco Profeti and Pietro Franchini. They began to collaborate in 2009, releasing music on labels like Tono Limited, Serial Number 849, Concrete Music, Dynamic Refection since 2014.
In 2016, they got the chance to release on Invite's Choice Records next to Wrong Assessment and Savas Pascalidis. In October the duo played at Radion for the Dynamic Refection showcase during the ADE.
They started 2017 releasing a second digital ep. on Dynamic Refection with a massive remix from Stranger, and with their first complete Ep. on the well-known underground label called Frozen Border.
2019 was a year of reflection for the duo, and right now Francesco is working as a solo with Hertz Collision Project. So, is not a surprise their presence on the EpisodeInvite series of podcasts hosted by Dystant Recordings; this time we will find a mix with the Experimental techno track Lassanamae from Loft, a cinematic ambiances with creepy atmospheres, the bridge between classic detroit techno and the Berlin scene called Pulsation – a track from Alexander Kowalski remixed by ROD, and old-school moments like Sleeparchive's Frost.
From minimal to ambient, from broken rhythms to acid, from straight techno to house elements, we will find ourselves in a voyage to the heart of techno.
TRACKLIST
Loft – Lassanamae (Original Mix)
Robert Hood – Master Builder (Sandman Option)
Truncate – Good Morning V2 (Original Mix)
Alexander Kowalski – Pulsation (ROD Remix)
Dustin Zahn – Juvenoia (Original Mix)
Luke Slater – Love (Marcel Dettmann's Black Gloves Remix)
Truncate, Chambray – Trax 4 The Club (Original Mix)
Eric Cloutier – Apeirophobia (Original Mix)
Atesh K. – Green Canvas (Original Mix)
Avision – Dirty Streets and Clean Windows (Original Mix)
Ryan Elliott – Grafton Road (Original Mix)
Sleeparchive – Frost (Original Mix)
Oceanic – Yellow Cone (Reprise)