Published by Davide Pappalardo on June 2, 2020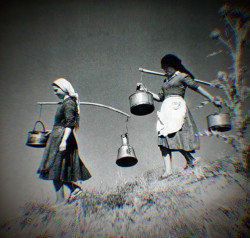 Kumasi and Echo Spatial are two Greek producers dedicated to techno music. Kamasi got into the rave scene in the late 90's, and mixed hardcore and breakcore during the 00's, and now presents an ethereal and textural style, Echo Spatial has an unrelenting and compulsive nature.
They now collaborate on the 4-track ep External Factors. The work, published on Athenian label Innermost, showcases both styles via two original tracks and two remixes where the protagonists of the EP rework each other.
This isn't their first output on the label: Kumasi released Claustro at the end of 2019, a textured affair with crawling snare-drums, and Echo Spatial published Hate at the beginning of the same year, a pounding techno assault with EBM and acid elements. Two distinctive styles coming together in what we can see as manifesto for both the artists and the Greek label.
Kumasi starts the EP with the title track, a dark techno affair with galloping kicks and obsessive lines. A thick yet suggestive sound intermixed with robotic whoops and underlined by steady cymbals. Echo Spatial remixes the number, giving us an acid rendition with distorted elements and late-night atmospheres.
Rectification is a percussive track from Echo Spatial, a hypnotizing mantra with combative snares and industrial rhythms. EBM basslines complete the scene with a sense of growing tension. The final song is a Moth, a collaboration where Kumasi remixes Echo Spatial in order to give us an acid techno episode with a minimalist approach and filtered drums.
An interesting EP showcasing the style and sound of two relatively unknown artists ready to show the world their music. This is club material that will give to many DJs some new weapons for their sets. Let's see if their collaboration will continue in the future, maybe in the form of a longer output in which they will further elaborate the seeds they have sown here.
label: Innermost
Rating: 7