Published by Alessandro Violante on January 2, 2019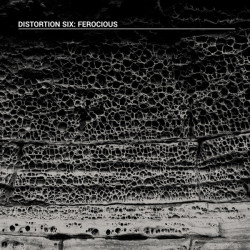 There isn't any rhythmic noise music lover who can forget the essential lesson given by Converter when this style experienced its boom during late '90s and early 2000s.
We will  find again certain atmospheres and sounds into the albums made by the young Norwegian musician Nichlas Schermann, better known as Distortion Six, who after signing with Ant-Zen, demonstrated a certain creativity and of being a really prolific musician. 
Two albums released in two years, plus one digital EP also released by Stefan Alt' label. Here we talk about its sophomore album entitled Ferocious, released during the last Maschinenfest edition in October. Ferocious is a convincing album, partially different from its previous release Fierce. It is faster and goes straight to the point.  
It isn't easy to say if it's the best album of his career. Surely, it sounds fluider and incisive, yet it is less heavy and less monolithic than his Ant-Zen debut. That's good, as it proves how Schermann is trying to find his way to rhythmic noise music, without reducing himself to repeat what has been done before by the pioneers of the genre, at the same time without losing the linkage between past and present. 
His music represent the Ant-Zen sound at its best, an inspired hymn to distortion, a sequences of distorted and uncompromising beats hitting the listener. 
There's the will to go back to a simplification of sound-noise which produces, as a result, rhythmic noise with an old school approach, focused around its primary elements. This is something similar to the method of the early days of this music. 
A more ferocious than brutal album, then. A more immediate approach. The creativity of Distortion Six is highlighted already in the opener Down (Kudari), a song in which his songwriting skills are emphasized. 
Here, Schermann makes use of a formula borrowed more from classical music than from techno. He starts from a motif, the primary element around which the whole songs is focused. 
Schermann also recalls John Cage's silence theory when he uses pauses as if they were sounds, to change tempos and rhythms, as it happens in Soin. He even start variations on sequences, as it happens in the opener. 
The album doesn't have boring moments, also thanks to the inclusion of frenzy episodes such as Noize, which hits the listener with fast, noisy ad syncopated rhythms, as well as in Drap and Skin, strong and immediate. Warm blood is another episode having a fast tempo and an aggressive mood, which almost goes into gabber. 
Crushing is the song which better incarnates the role of being a bridge between Ferocious and Distortion Six's previous effort. A slower, heavier and metallic episode, having the longest length among the songs of the album. 
The ending makes it clear the musician will come back soon with another follow up. Multiple kings features a new element in Distortion Six's palette, harsh disorted vocals put on a slower episode having a deep grey atmosphere. 
Also the other songs sound good in the context of this uncompromising effort, showing a strongly inspired musician, a young promise of Ant-Zen and of rhythmic noise music who, although it's impossible not to trace a connection with Converter's music, doesn't only sounds as a good reminder for old school aficionados. 
Distortion Six is having his maturation and his music is pretty convincing. As of now, that's enough.
Label: Ant-Zen
Rating: 8, 5