Published by Davide Pappalardo on August 4, 2018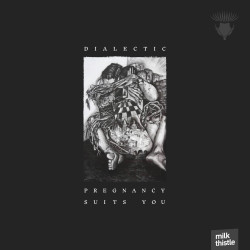 Drummer and electronic musician Dialectic aka Patrick Sharples debuts with the 6-track digital release Pregnancy Suits You on the Australian label Milk Thistle Records. Here he presents his hybrid sound which mixes grime, industrial, ambient, jungle in order to create a soundtrack for the theme of pregnancy and childbirth, as they relate to his experiences in fatherhood and as a mental health social worker. From his own words: "...[as a] mental health social worker I am fascinated by semantics and the subtext of everyday comments. … I overheard the phrase "pregnancy suits you"…and it got me thinking, does that mean that pregnancy doesn't suit some mothers? How do we measure if it suits someone or not?". A peculiar work both in theme and sound, a curious journey made of deep atmospheres, energetic rhythms, bass sounds, and changing of peace.
MA-MA starts things up with its claps and pulsating effects, adding rhythmic snares and modular lines in a crescendo interrupted by bass sequences. A gloomy atmosphere shows itself, entwined with nice sci-fi motifs and ethereal choruses in the last part of the track. Tunnel vision employs minimal hip-hop rhythms and enthralling ambiances, giving us a soulful tune slowly developing thanks to melodic synth-lines and sampled vocals. The result is a looping affair guiding us toward a sudden change with even more melancholic elements and a subtle but effective refrain.
Engage/disengage conjures a futuristic atmosphere by the means of syncopated rhythms and droning synth melodies, a mysterious and crawling voyage with eerie lines and riffing bass-lines. The multitude of elements doesn't mean we have chaos, instead everything works perfectly as one. My bad dream could eat yours is a play at repeated rhythms and samples, using hit-hats, throbbing lines and shrilling synth sounds. The result is a kind of "electro-rock without guitars" not forfeiting the ambient elements. The last part reaches a riffing climax craftily layered upon the sonic pattern.
Chikz offers a surreal atmosphere with jazzy rhythms, electronic vortexes and obsessive samples, growing during its course with inquisitive beats and epic melodies with an almost happy quality. Another great mix of urban structures and sci-fi sounds giving us a cinematic experience. Vernix ends the work with its grime songwriting made of repeated snaps and moody electronics. Soon the snaps are replaced by snare-sounds underlined by distant industrial effects and the usual sampled vocals. The second half of the track sees the addition of rhythmic rumbles, then it collapses into astral lines.
Pregnancy Suits You is an evocative and moody affair built on rhythmic patterns and electronic atmospheres, a fusion of different elements never losing control, but at the same time offering a varied experience. The main theme is never explicitly shown, but you can perceive swings of mood and the different aspects of the social view about pregnancy, as well as the impact on psyche and life, in the different takes on the music. The common ground made of atmospheric patterns and drum sounds changes its journey by adapting to the tracks, guiding us in an effective narration. If you want something different, try it.
Label: Milk Thistle Records
Rating: 7,5