Published by Davide Pappalardo on November 20, 2016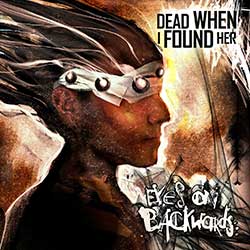 In the American modern electro-industrial panorama, Arthur Holloway's project Dead when I found her has made a name for itself as one of the most personal expressions of the genre. His music combines noir cinematic atmospheres, poppish lines, robust industrial attacks, varying the formula from album to album: there is a constant growth in his work, a path leading to the magnum opus All the way down, published one year ago. An album where his craft has been perfected in every detail, giving us a more coherent and stronger songwriting with a rich narrative about death and getting old seen as biological facts of life, instead of romanticized concepts.
Now he returns with the fourth album of his career, Eyes on backwards, licensed by Artoffact Records, and he surprises us with his most violent and direct work to date just one year after the aforementioned introverted and brooding predecessor. The harder side of Skinny Puppy, FLA and 90's American electro-industrial is here evoked, without forfeiting creepy atmospheres, samples and synth lines, but integrating them in a dense and militant songwriting full of robust rhythms and aggressive moments.
Tantrum is a declaration of intent, a track characterized by an atmospheric intro followed by a direct and throbbing ride, guiding us to the deepest regions of an electronic hell. A familiar groove underlines effected vocals, in a movement reminding us of Too dark park, all for the better and never sounding as plagiarism, thanks to the small, but important, details added by Holloway in the texture. Shining path uses a more dreamy approach in its synth lines and crawling adagio, but there is a controlled tension which expresses itself by sharp sounds and malevolent refrains, following the modus operandi of the album.
High anxiety is a beautiful piece of funky-beats driven, synth poppish sounds which implodes in a robotic mantra full of melancholy and sadness, a track reminding us of the style used in his last endeavor, relying heavily on placid samples and slow rhythms, while Midlife eclipse starts with cosmic electronics, evolving further with a march enriched by a hypnotizing urgency encapsulated by snare-drums and violated by grandiose lysergic climaxes.
The last track Serus mundi once again uses 90's electro-industrial tropes in a gnawing, creepy atmosphere interrupted by shrilling synths, until more melodic elements are layered upon the structure of the song, achieving an effective mixing of emotions. Experimental vocals and ambient sections vary the formula, giving us an episode showing, once again, the adaptability of Holloway's skills and the broader vision of his music.
All in all, Dead when I found her keeps pursuing its path without any drastic change, but at the same time evolving further, exploring new approaches and directions. Maybe Eyes on backwards has not the same existential gravitas and ambition of All the way down, but their scope and meaning are different, while being unmistakeably linked by a common thread. The fact this album is more violent and straightforward doesn't mean Holloway has forgotten how to craft dense atmospheres and cinematic interludes: they are just used in a stricter fashion and fused with a urgent, tumultuous songwriting. To give us one of the best albums of the year twice in a row is no easy task, and the fact Holloway has accomplished that, surely tells us something about his music. Buy it.
Label: Artoffact Records
Rating: 8,5