Published by Davide Pappalardo on November 14, 2019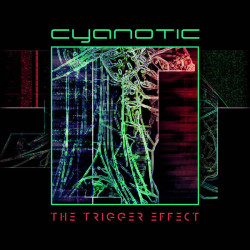 Cyberpunk electro-metal outfit Cyanotic is one of the best kept secret of the American scene. While not unknown to the public, the band has probably never got the amount of success it deserves – despite years of activity and great works like Transhuman (2005, Glitch Mode Recordings), Prehab 25mg-ep (2008, Bitriot Records), T2 (2018, Armalyte Industries).
Their sound evolved through time, starting as a violent mix of drum 'n' bass and industrial metal and then adding glitch and breakbeat elements, reaching a more controlled but not less enjoyable stile with straight cold wave attacks and EBM undertones in recent time.
Their last album The Trigger Effect comes one year after T2 (which is an updated version of 2017's Tech Noir) in the form of a digital 8-track release. Here mastermind Sean Payne and new member Jesse Hunt develop a more atmospheric and slower affair, but not less engaging, with the help of Tal Kliger and Kevin Barron on Stay Asleep and Charles Levi of Pigface on Sit Back + Relax.
After the very short intro We live in public, made of some initial piano notes soon substituted by sampled vocals and cinematic tension near the end, we find the track Information overload (same as always) and its throbbing basslines with an apt cyberpunk soundscape. Destructive drum machines and distorted guitar loops give us a pounding chant with harsh vocals reminding us of an enraged cyborg. The songwriting plays with straight rides ala Ministry and more restrained pauses, while apocalyptic sirens and syncopated moments enrich the sonic palette.
Stay asleep welcome us with another score-like introduction, soon fractured by hard kick drums and evocative synth sounds. The track grows in power thank to rhythmic snare drums and grinding guitars, but its true strength lies in infective refrains and coarse vocal deliveries. Structural hostility is a nightmare factory made music, a perfect representation of movies like Terminator and Hardware via distortion and rhythmic obsession with powernoise undertones. A fast drum machines develops a crazy ride enriched by EBM bass-lines and grizzly vocals. An oldschool vibe surrounds the track which recalls 90's aggression and even some melodic moments in hidden guise.
Keep on keepin' on is a more electro-minded episode with eerie synth-lines and percussive crescendo in mid-tempo, the perfect scenario for the almost melodic effected vocals. After oniric pauses pounding metal riffs build a passage doomed to collapse into glitch passages and ambient interludes. ..and I'm scared follows suit with lysergic atmospheres and electro arpeggios before it dwells into a sort of darksynth mantra with industrial rhythms and an experimental club vibe recalling 80's releases. We find here the more venturous side of the project in the form of an instrumental pastiche using even downtempo piano notes during its second half.
Blurring the lines is a drum 'n' bass track with broken rhythms and cybernetic lines, upon which Payne returns with his usual hoarse vocals. Guitar loops complete the scene while acid synth sounds evoke sci-fi scenarios. Once again the band showcases the ability to build a world by the means of its sound, giving form to the cinematic interests of Payne and company. Sit back + relax ends the album with another old-school pastiche very close to the modus operandi of the side-project CONFORMCO, but with a darker vibe. Electro-industrial rhythms and contagious bass sounds give a funky feeling to the otherwise straight attack made of ferocious drums and almost epic synths.
The Trigger Effect expand upon the sound reached on T2 thanks to a redefined songwriting in which elements of the past production of the band meet a very enthralling mood made of cinematic soundscapes. The love for the 90's cold wave scene is clear, but it doesn't mean that other elements are banished from Cyanotic's music. Especially, the later tracks play with the many influences of the project but at the same time they are perfectly fitting in the narrative of the album. In a time in which there is some new interest toward industrial metal (see 3Teeth's success) Cyanotic deserves to finally become another big name in the field. Listen to this great album and spread the gospel.
Label: Glitch Mode Recordings
‎
Rating: 8,5