Published by Davide Pappalardo on October 10, 2020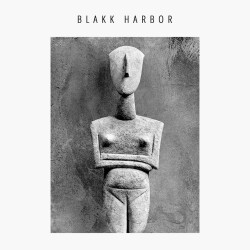 Berlin-based Greek artist Angelos Liaros and his ambient/techno/drone/tribal project Blakk Harbor have rapidly risen in the world of modern industrial-tinged techno music. The artist was already know for the experimental project Mobthrow and as an employee of Native Instruments, but with Blakk Harbor he showcased his skills in sound design, mixing ancient mythology the occult, and modern electronic music.
If the debut album Mandares (Ant-Zen, 2018) is a droning experience based on world music and atmospheric electronics, the following EP Krude (Blakk Harbor, 2019) injects a more rhythm-driven structure without forfeiting the sparse and ominous soundscapes previously encountered. An evolving style taking the best elements og atmospheric techno-industrial music and adding its own voice and feeling.
The last effort A Modern Dialect, published on the self-titled label created by the artist, is a 9-track sophomore album further exploring Blakk Harbor's sound and themes. Here he conjures a communion of beats and atmospheres, evoking a ritualistic world in which distant sounds and well placed distortions hypnotize the listener in an atavistic dance of the soul.
Collapsing horns is a cinematic intro made of growing tension and suspended statics, a nervous yet somewhat soothing mantra opening the gates of another reality, so far and yet so close to us. The aptly named track showcases shilling horns and sharp effects to great effect.
We are disposable puts steady kicks and enthralling rhythmic-patterns on the table, developing a modern and at the same time ancient affair recalling tribal dances and modern late-night dancefloors. The episode is graced by eerie pauses and obsessive elements in the background, rich in solutions and ingenious in its professional sound design.
Theory of power is a subtler affair with a charming and seducing slow movement with a lounge feeling. A game of fragmented pulsations is the real protagonist, but as usual our attention is threatened by a minimal yet busy soundscape full of shrilling moments and ominous atmosphere. The influence of atmospheric IDM is reshaped into something personal and elegant without giving us just an exercise in style.
Individualism is god is more of a straightforward track with mesmerizing bass-lines and riffing sounds. A cutting structure employs factory-like moments upon howling innuendos in a frenzy ready to implode. A perfect lesson in modern and intelligent techno-industrial music working both in a club and at home.
End is just the beginning is a dark ambient pastiche with abrasive dissonances and down-tuned motifs, indulging in monolithic drones and free experimentation. In a moment like this the level of professional skills and artistic craft of Blakk Harbor is clear – in lesser hands we would have just a chaotic affair without a purpose, but luckily an amateur Liaros is not.
A Modern Dialect is the best effort to date from Blakk Harbor, a manual for every artist choosing to approach the darker side of modern techno music. Sharp and hard, but never bloated or confusing, atmospheric and eerie, but never dull or lost in meandering dispersions, the album is a backlash on our dehumanized society and the declining globalization via the evocation of old emotions and fears deeply rooted in our souls. Techno music as a commentary on our dystopian reality and the effects of technology, what it should always be at its finest.
Label: Blakk Harbor
Rating: 9