Published by Alessandro Violante on March 16, 2016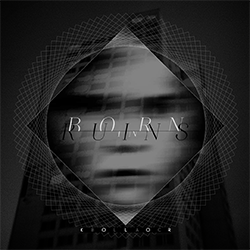 Only two years have passed since the release of the Hendrick Grothe's debut album by the well known Basic Unit Productions, Daniel Myer's (Haujobb) and Wolfgang Strauss's label, and it seems that these have been more than sufficient in order to transform a good (but not astonishing and rather derivative) musical idea influenced by techno music into a much more organic and less strictly danceable formula, with less purely techno episodes, well conceived and refined rhythmic industrial-influenced architectures and a rather spectral mood, with a particular taste for melody, listenable in particular in a couple of songs of the new album Born in ruins, released on 29th February.
Differently from the previous album Wide Noise, Born in ruins presents a new musical and conceptual direction for Grothe, and this can be perceived also focusing on the cover artwork: while in the previous album the artwork portrayed giraffes immersed in a dark forest, now the focus has moved towards enormous and grey buildings that represent the so called industrial metropolis, and Born in ruins is, then, a sort of homage to a certain kind of urban environment that is well described in music through compositions influenced by rhythmic industrial, as well as to certain dystopic cinema. A typical Grothe song starts with a redundant structure that repeats itself presenting small variations until its end, and upon which synth lines that transport us in a sort of dark and alienating nightmare are drawn.
However, quite strong linkages with techno music are still listenable in the opener Spirits and, above all, in Collision, that has a more straight 4 / 4 rhythm and that is surely more danceable than the other songs (that, however, flirt with certain EBM, perfectly reflecting the melting pot between the two genres that is now experiencing a certain feedback), even if they always are hybrids with the post-industrial matter.
Anyway, the best songs are those characterized by a martial and hard structure (without never sounding excessively rough, thanks to a particularly "soft" sound production), among which there are the tribal-influenced Doomed, a very inspired episode in which a refined distortion slowly shows itself and in which the already quoted obscure atmospheres enrich the whole, as well as the mysterious and melodic Terpentin, in which a remarkable and distressing piano motif seems to be borrowed from a Dario Argento soundtrack, and the martial and "rough" Fat years, characterized by an almost esoteric mood, a result achieved thanks to the use of a dark synth line. Also Strong bold presents particularly sinister atmospheres and motifs (without, due to this thing, sounding trivial) along with a well thought syncopathed rhythm. Born in ruins, single already presented some days ago (along with the opener), is another remarkable example of a syncopathed rhythm more linked to industrial than to techno music, powerful and engaging, that reflects the post-industrial dimension so well portrayed in the cover artwork.
However, this doesn't mean that Grothe has abandoned the more properly danceable dimension of his music, but it means that he has only brought it in a better communication with the industrial sound. Nevertheless, there are more danceable songs such as Wanderings, that has an almost dub rhythm and a particularly "old school" melodic idea that remains fixed in the head and the electro-dub of Give us tools, that seems almost a very good example of instrumental post-industrial hip hop. The short, intense and pounding Transform closes the album. It's an assault closer to dark techno.
Undoubtedly, Born in ruins is an awesome milestone in the musical maturity of Blac Kolor, that now seems to have found his personal musical formula. It's a particular album in which the rhythmic architectures never fully prevail over the fascinating melodic-dystopic ideas, in an interesting dialogue between the parts. The result of this process is a very good album that also looks at dystopic cinema and that will fascinate both the aficionados of rhythmic industrial and the lovers of the electro-industrial sound.
Score: 8
Label: Basic Unit Productions