Published by Alessandro Violante on July 10, 2016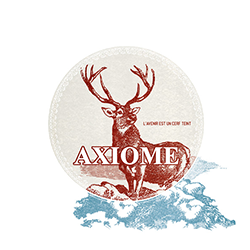 If you belong to that group of people who consider IDM too much artificial, the result of a neverending process of construction of a sound called by some chamber music and with not much concreteness, you'll find in Axiome's music your own fountain in the middle of an asphyxiating musical desert.
Let's go back for a while to 1991 in Belgium, before Imminent Starvation produced his music, when Olivier "Doctor" Moreau and Cedrik Fermont founded a duo initially focused on a rhythm-based, claustrophobic and rhythmic minimal sound that anticipated rhythmic noise, the starting point of Moreau career. This project released a full length only in 1999 after several years of music research and in fact, Rictus, that's the title, shown a new interpretation, with a rhythmic noise influence, of a kind of music called intelligent by English speaking people. The name of Axiome first release is Théorie et Progression (Theory and Progression), a definition perfectly suiting with their music.
2016: Ant-Zen, the label that has been releasing all of their albums since 1999, releases the new chapter of their long history too, titled L'avenir est un cerf teint, showing two mature artists who, in a Duchamp-like operation, borrowed TB-303 acid sound from its place in music history and translated it in music having clearly defined boundaries, even if in constant mutation. Likewise, historically far from the "Tyranny of Distortion", to quote in a slightly edited fashion the title of a famous EBM compilation series, the duo used noise music of the past and wisely put it in the interstices of eleven songs. Each of them has its specific personality, and the above mentioned noise element adds to the sound more concreteness, and heaviness to the beats here used, adding control and physicality to the avant-retro sonic explorations made by Axiome.
Besides that, the most important strenght of their music is their stylistic variety. Listeners feel estranged, understanding they will have to face eleven songs,  each of which has a completely different structure. How could you label a record so kaleidoscopic? There are IDM undefined structures meeting heavy sounds and a retro-like cinematographic halo in Walrus on the rocks. There are refined techno-derived backbeats enriched by a melancholic and minimalist melodic motif and by one of the most beautiful pauses of the album in Le Cri Du Gecko. There's a strongly syncopated exciting rhythm, close to rhythmic noise, TB-303 and noise close-ups perfectly sounding together, in L'échappée du Yucca. There are powerful techno structures upon which there's an acid ping pong with a strong analogic taste in Olifantome. There's a cinematographic soundtrack in midtempo recorded for an unreleased documentary movie focused on the geographical area between Belgium and West Germany, in which there are echoes of Kraftwerk in a dark mood, in La Chute Du Guide Téléphonique. There is an asphyxious and Ant-Zen style intelligent techno industrial structure having spatial coords constantly rethinked in Images du Désastre. There are frenzy synthetic TB-303 lightnings drawing patterns, recalling Pollock's action painting as well as retro episodes with an Orwell taste closely looking to '80s music in their sounds, in Trop tard.
In this maremagnum, every listener will find his dimension and will be able to appreciate that pause, that sound, that rhythm, that idea undoubtedly adding to the album an added value that shouldn't be negated. The deep stylistic difference between each song doesn't mean that there's not a common element linking together the parts of the whole. That element is called "Theory and Progression", linking this album to their first release. That of Axiome isn't simply instrumental music for a never released movie, but a collection of photos that, if we look carefully to the titles of the songs, recall the photographic universe, as well a, that of early cinema, without any major difference. Each song has, inside itself, not just a series of sounds, although they are combined very well with each other, but also an experience (the escape from Yucca), a thought (Trop tard, Mise À Nuit, Images Du Désastre are full of what Europe feels when it's attacked by terrorists who make disasters and who highlight its weaknesses). This one is among the more unusual characters that Ant-Zen musicians (and not only them) have. A message permeating music that, most of the time, has no words.
Intelligent without being academic, creators of multifaceted and complex structres without sounding artificial, powerful without being annihilating. This is Axiome. Try it to believe it.
Label: Ant-Zen
Rating: 8