Published by Davide Pappalardo on May 7, 2018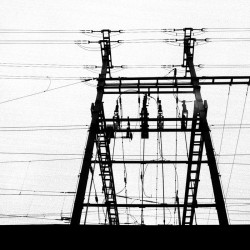 Hailing from Brindisi (Apulia), Antonio Tonietti is an experimental musician now living in Viterbo (Lazio), devoted to the mixing of harmonic vocals, ambient passages, droning electroacustic sounds, darkwave and avantgarde elements. He has even worked as a soundtrack composer for theater plays (In grembo a Dio, a show desired by the Caffeina foundation for the Jubilee, and Fratto/C, a show focused on life and works of the painter Carlo Vincenti). He appeared on Glenn Branca's Symphony No. 13 (Hallucination City) For 100 Guitars, published by Atavistic / BrancaMusic and Performed on February 2008 at Auditorium Parco Della Musica as part of Contemporanea 2008, sponsored by Fondazione Musica Per Roma. He even appeared on the compilation Ambient Italy by American label Aural Films.
He was interview for the DVD Solchi Sperimentali Italia – The Movie, inspired by Antonello Cresti's book about Italian experimental music, explaining his musical vision and his love for self-built instruments like his tavola armonica (sound board) built from makeshift means and scrapped materials. This instrument is the main protagonist of his first proper work called Improvvisi Per Tavola Armonica (Improvisations for Sound Board, a title inspired by Giorgio Manganelli's book Improvvisi per macchina da scrivere), a three track album published by Italian label Sonorus Records, where he uses other tools like his "lagenofono" and field recordings processing and editing everything via cut-up. The result is an ambient/drone affair with slow movements and enchanting loops, a sound-spiral in which the soundscape changes thanks to almost imperceptible tweaks.
I is the first act of the work, a twelve minutes long chrysalis slowing reveling itself with an evocative and harmonic crescendo. A static sound is soon reached by blaring loops and mysterious harmonies, developing a ceremonial atmosphere with almost sacramental qualities. Shrilling ambiances and spiraling patterns begin their displaying of sidereal soundscapes, evoking a world beyond the visible. A droning mantra is the leitmotiv of the second part of the track, in which the aforementioned elements are tweaked in order to obtain a mesmerizing experience.
II (per C.V) is more of an intermezzo, a less-than-two-minutes long ambient piece reaching almost dark territories, an eerie and ghostly loop full of suspense and reversed sounds, picturing via sounds a menacing and ominous vision. It soon gives away to the last part of the work III, a field-recordings episode following the eerie sound of the previous track, adding creepy samples and effects. Things go darker, maintaining the droning quality of Tonietti's music in an industrial setting, Distant vortexes and obsessive cut-up sounds are now the main elements of this brooding affair, and during the second part of the track shrilling effects and alarming chords complete the scene.
This is not for sure an easy-listening experience aimed to fast consumption or disposable entertainment. Here a story, or a no-story if you prefer, is crafted thanks to the home-made instruments of the artist and the post-production in which loops and cut sounds are filtered by his ambient sensibilities. A conscious listening session is required, and you have to forget any sense of urgency or easy reward in order to fully appreciate the slow-building and detailed nature of this work. Tonietti's experience in theater shows itself and this music could easily be used for a play, a dark, creepy play of course. A genuine experimental work with a great scope and interesting developments .
Label: Sonorus Records
Rating: 7