Published by Davide Pappalardo on May 5, 2016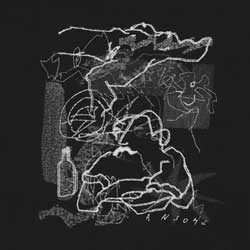 Techno industrial is on the rise since some years, and that's no mystery: we just have to think about names like Perc, Truss, Regis, Surgeon, Karren, and in more recent times Ancient Methods, Codex Empire, Blush Response, Phase Fatale, and many, many others. A sound that is galvanizing both the techno and the EBM/electro-industrial crowd, giving us many examples of dark, unrelenting, punishing, experimental and at the same time enthralling electronic music.
Not surprisingly Perc Trax, the label of Ali Wells (Perc) himself, is one of the main actors in this scenario, giving us many interesting releases that move between techno, industrial, noise and so on, reaching new heights of aggression echoing the sound of the 90's in a heavier and unsettling fashion. But we don't have to think this is an intellectual movement: we have here music made to be played loud, in the club or headphones, in a visceral, physical and direct way.
Enter Ansome, South London producer Kieran Whitefield's techno-driven alter ego, which has already released many EPs and singles on vinyl and digital format under different labels. His sound perfectly reassumes all the major elements we previously mentioned, elements that characterize techno industrial in its essence. It's full of kick drum rhythms, relentless beats and wailing feedbacks, a beast that engulfs the listener in a gnarly, screeching, dark but pulsating world.
Stowaway is the debut full length of the project under Wells's label, an obsessive statement made music, where Whitefield expands upon the path he previously layered with all of his works, especially his debut EP on Perc Trax The White Horse and the digital EP on THEM Coffin Dodge. Here we find eight tracks (ten on the limited CD version) of charming, enthralling, hitting sonic overdrive and sheet noise distortions, with a rhythmic session coming from Hell, made of bombastic kicks and sheer and ferocious velocity.
The first track Chemical Kenny could deceive us with its post punk distorted sound at the beginning, but then it evolves with a crawling, metallic movement that gives us an experimental introduction to Ansome's world. A heavy number like Blackwater is where the fun begins, with kick drums, white noise distortions and rhythmic hooks that guide us in an obsessive ride; the title track is on the verge of rhythmic noise with its industrial anvils and repetitive loops, while The Pain Train lives up to its name giving us a sonic locomotive with a deep and dark sound full of distant, creepy and aerie effects, without forgetting the mechanical rhythmic crescendo that is the bone of the track.
Grave Digger Figure is heavy on the industrial and noise side with its filtrated vocal samples and screeching sounds, keeping a slow, unnerving pace, a track that shows us again the more experimental side of Ansome, before it explodes in a rhythmic mantra full of kick drums and hypnotic beats. The final number Bad Blood is another exemplum of dark techno galore completed by distant, nightly noises and factory-like sharp sounds, layered on a structure made of snares and obsessive drum sounds.
To cut a long story short: this is a masterpiece of no-nonsense, heavy, grizzled and grim techno industrial, full of stompers and moments that are made of the dreams of any lover of dark and punishing electronic music. The roots of UK underground techno are here, but at the same time the more industrial and noisy sounds are not forgotten, subdued to the tyranny of the beat for a storm on the dancefloor. Whitefield shows his skills in sound design giving us complex, but at the same time direct, structures where a certain sense of dramatic crescendo is linked with an abrasive and unforgiving brute force. It works in the club, it works even in any solitary listening session with a good pair of headphones, and it requires to be played loud to be enjoyed at the fullest. If you love "heavy" dance music, stop reading this review and go buy this album, you won't be disappointed.
Label: Perc Trax
Rating: 9