Published by Davide Pappalardo on December 5, 2016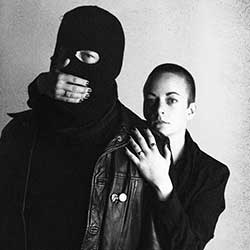 Alvar are one of the most exciting new projects in the world of underground techno industrial / raw EBM. Coming after some cassette and digital only releases, the Swedish duo have just released their first work on CD, Guilt Kollektion (here reviewed by us), a work made of rhythmic noise, old school EBM, techno, lo-fi electro-industrial, and much more. Now we are going to ask them some questions about their project and their music.
Hi! We would like to know more about your project Alvar: how was it born? What's the inspiration behind it? What about the themes of your music?
Hi. We started out as Alvarets 4 Ryttare like 3 years ago. Back then, the music was much more experimental, not as rhythmical as today. The inspiration was more or less Coil and old school Cold Meat Industry bands, like In Slaughter Natives, Brighter Death Now, etc… then we changed the name to simply Alvar and brought in some more rhythmic stuff and maybe more melodies. Now, techno, electronic body music, dub and some grindcore were added to our inspiration.
The themes of our music come from the darker side of life, may it be religion, politics, magic, war or whatever.
Guilt Kollektion is your first proper CD release. It collects many tracks from your cassettes and it shows a vast array of styles and influences, starting from minimal synth to industrial, rhythmic noise, techno, lo-fi, and much more. It's a very impressive effort with a strong songwriting, sharp sounds and strong rhythms. Could you tell us more about it? What are the influences of your music?
Thanks… We come from different musical backgrounds, maybe that is a reason of the different styles. But everything should sound Alvar to us, not always in sound but as a feeling. The influences come from everything in life. Like books, politics, religion, and things we experience. The Guilt Kollektion collects the tracks from our cassettes releases: Resurrection Of The Sinner and I Cut Out All The Stars plus a bonus track, now great mastered by Prodam Berlin. The sound is so much better on the cd, compared to our old releases.
How did you get in contact with Dirk Ivens and his label Daft Records?
Dirk Ivens simply wrote to us and asked if he could release our cassettes on CD. Simple as that. Of course we are very honoured to be released on his label.
You come from Sweden, a country famous for its music, be it pop, death metal, electronic music, industrial and EBM (let's think about Nordvargr and his many projects, Deutsch Nepal, Covenant, Cat Rapes Dog, and more recently Celldöd, Trepaneringsritualen, you, and so on). What do you think about your scene?
Most of those bands you mention are more or less friends of ours! We like them all, and they are a big inspiration for us. It's like when a friend makes something great and you are happy for them. The scene is like most scenes – there are ups and downs. There are things moving in the underground, some really great things happening in Sweden. There are more bands with their own ideas, own agendas, that are trying to get something different happening and not trying to sound exactly like something else. Think of bands like Haul, Dissocio Modus Trans, Yabibo Hazurfa, Boar Alarm, Stumm / Risberg, Empfänger, Roya and more..
Let's get technical: we would like to know about your equipment and tools. How do you compose your music? Do you have any preference for analog synthesizers?
Well, there are some analog synthesizers, some digital, some effects, some software, a bass guitar and an old ancient african drum. The equipment is not really important to us, it is what you make out of your equipment that matters. A big room full of modular systems doesn't necessarily makes great music. But of course we love the sound and feeling of an analog synthesizer and the way you can't control the sound of it 100%.
Recently you have done some really interesting mixes like the ones for Futurismi and Temple of Joy. Do you enjoy doing them? Are they a way to tell us about your vision, taste and influences?
They are funny to make, it's supposed to be a little glimpse into our world. And yes, sure our influences.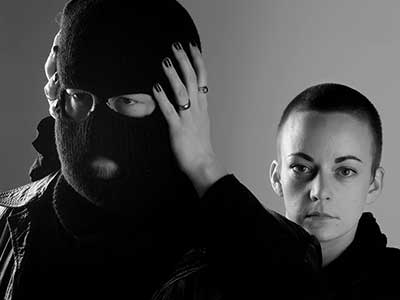 What about the live dimension? Do you like going on tour and doing concerts? Does your music manifest itself in a different way during your performances, compared to the studio experience?
Well. We love to play live and has never made the same gig twice. Every live performance is a new experience to us. We try to change tracks, re-arrange them and re-program the drums etc.. And we bring different equipment, and sometimes we are forced to use smaller amount of stuff – when flying etc.. Lately we have been joined on stage by Jimmy (Yabibo Hazurfa) and Fredrik (Boar Alarm, Severe Illusion, Analfabetism) and they bring some extra noise and dimension to the show. We try to build up a feeling on stage, and don't expect encores… Live compared to studio work is a lot different actually, in the studio there is of course more time and live is more direct – in your face.
Do you have any plan for the future? How is your music going to evolve? We are really excited about the idea of what will come next.
The future is hidden in the darkness… But well, we will probably record some new stuff now during the dark winter season. And we make our last gig for the year next week in Stockholm. Next year, we are going to Russia and a few other gigs are to be announced and hopefully there will be more.. Some records are on there way, but nothing we can bring to light yet.
Thank you for your time! Anything you want to say to our readers?
Thanks for all support. This year has been magical, it's even hard to believe.