Published by Davide Pappalardo on November 10, 2016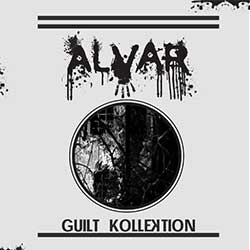 Alvar is a Swedish duo composed of married couple simply known as J&J, dedicated to a mixture of raw EBM, techno, industrial, rhythmic noise and much more, all encompassed by a minimal ad austere aesthetic and inspired by deserted places, forgotten houses and old legends from Öland (an island and a province of Sweden). Until now, they have published three cassettes (Deceivers for Beläten, Resurrection of the sinner for Alvaret Tape Rekordings and I cut out all the stars sold only at the Kalabalik På Tyrolen Festival), a digital album called Gold ritual II and a Cdr promo, works characterized by a noisy and raw sound, where death industrial atmospheres and rhythmic rituals meet proto-EBM pulses and structures. They were even featured on the compilations Dödens Barn Rider I Natt for Alvaret Tape Rekordings with the rhythmic noise number Shred and on Not so cold: a warm wave compilation, published by Tacuara Records and Cintas Triangulares on cassette and by Sleepless Records Berlin on an expanded 2xCD version, with the hypnotizing track The very witching time of the night, an episode where their love for late 80's-early 90's proper electro-industrial was aptly displayed and fused with noisy elements and rhythmic obsession.
Finally, they now know a CD release under the tutelage of Daft Records, the label run by Belgian legend Dirk Ivens (the mastermind behind Dive, Klinik together with Marc Verhaeghen and Peter Mastbooms, Absolute Body Control and Sonar with Eric Van Wonterghem), the album here reviewed called Guilt Kollektion; we find twelve tracks coming from the aforementioned cassettes Resurrection… and I cut out… and a final track coming from their past, for a total of thirteen tracks and a length of more than sixtyfive minutes, a real treat for any lover of raw electronics with an eye for the rhythm and lo-fi, dark and, at the same time, futuristic atmospheres.
Nordsee is an atmospheric introduction, where earthquake-like beats and sci-fi synth lines accompany sampled dialogues and riffing crescendos, while Walk among friends is a mechanical number played on a slow rhythm: a noisy, almost electric tension upon which spoken word and ghostly sounds are layered in a minimal wave fashion. These two songs show us already the cold and minimal world of Alvar, enriched by Ascends the feelings and its bass sounds and witchy movements aligned with a malign distorted voice and old-school militant rhythms, and by the raw nightly tension of Knuckle duster and its almost tribal structure where the lesson of Dive is an inspiration for an electronic ritual with a "funky" rhythm.
Diffuse tomorrow is a highlight of the album, a techno industrial number full of gritty sounds and obsessive 4/4 driven rhythms which recalls the Aufnahme+Wiedergabe sound with its mixture of EBM and cold techno elements. Gated takes its tool with hypnotizing distorted pulses and robotic vocals in a fusion of old-school electronics and rhythmic noise, and If this is you uses an acid movement upon which eerie samples are placed, recalling the more dance-oriented F.L.A of the late 80's, especially the remixed versions of their singles. These tracks give us a modern take on Alvar roots, showing us why they are probably among the best bands in the underground area of the genre: you could recognize their influences, but you will never think of them as mere clones, and they are not stuck in the past and afraid of experimenting with different elements and sounds.
Bloodpumparmuskeln is a muscular number, between the more lascivious Front 242 and the sound of Klinik, a groovy affair with pounding drums and an enthralling rhythmic structure. To give in is a clockwork track with a strong movement and angry distorted vocals emerged in a shrilling and tense atmosphere, which degenerates in a synthetic crescendo full of claps and gritty lines, and Wunde is a minimal wave track based on loops and obsessive factory-like sounds, upon which a groaning voice and mysterious synth lines are layered in a creepy fashion. The love for the more minimalistic and cold sound of the 80's is well showed, as well as the attention for industrial atmospheres and decadent soundscapes.
Execute a man is a skilled reinterpretation of Bikini Kill's Suck my left one, originally a punk rock track, here rendered as a totally different song full of EBM-ish digital rhythms and electro-industrial crescendos with steel-like abrasive sounds, a techno pastiche where even cosmic synth-lines are not missing, while Terminal 5 has a dark ambient quality, where distant and sparse beats work together with piano sounds and inhuman vocals in a lo-fi setting full of tension despite the quite peace of the track, and the final number Sweden (Red vote version) surprises us with its almost techno-pop keys, even if sharp elements and mechanical rhythms are not forsaken, while filtrated vocals keep an eerie and ghostly atmosphere among the futuristic structure of the track, a perfect way to end the cd. Once again, Alvar show the variety of their sound and how they tickle their formula, maintaining at the same time their identity, thanks to a certain dark root always present in their music.
Despite its playful name, there is nothing to feel guilty (or worse ashamed) about in owning Guilt Kollektion, instead there is a great pride in this collection of unearthed gems which finally have a proper release. We really hope the public will become familiar with them, especially the lovers of techno industrial and the modern take on old-school EBM, because they deserve a greater recognition due to their skills and their vision of underground electronic music where the past is not a cage, but a reference to build a timeless sound which speaks to our inner world and to our atavistic traits using futuristic elements and strong, dark atmosphere. It doesn't get a higher rating only because we are confident in the fact that the best is yet to come: buy it and you won't regret it.
Label: Daft Records
Rating: 8, 5