Published by Alessandro Violante on April 26, 2016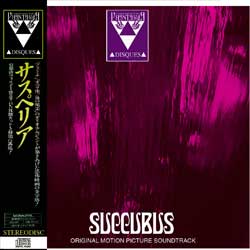 About four months have passed since the last cinematographic emanation of Cosmotropia de Xam, and finally Succubus is ready to be shown and lived, as a mystical experience, as a hallucinatory state, as a medium through which we rediscover "what's different from ourselves", the medium through which he unleashes the daily pulses that entangle us. Mari K and Alena Trucizna are here our "passive" guides, succubi towards their detachment from reality, and w're succubi too. For a moment, just for a moment, we find in the loss of control the condition of being dominated, a way to cut out ourselves out, and to wash one's hands of it.
Then, let's follow our guides through fourteen episodes characterized by a strongly evanescent and experiential mood, weakly with an identifiable music genre, maybe only witch house would be apt as a definition, a genre that some people consider dead, but that in reality, also thanks to Phantasma Disques, has a strong bloodline. Twelve artists for fourteen songs: this is just enough to highlight an album that opens itself to different approaches, sometimes presenting itself under the form of strongly lysergic ballets as in Bath's Without ceremony or in Mater Suspiria Vision's Spiral chamber (immersed in an lysergic ambient dimension that is one of their trademarks), sometimes under the form of atypical episodes (with a punk attitude) as in Sco's ĐrØp Ŧhe bØmb, or also in Morgve's In my spine and in the pop deconstruction of Damn Whore's Black opium, under the form of classic (and opium-like) high quality and slow witch house sweeps that, however, aren't as good as other more inspired episodes like, for example, the hallucinatory, dub and morbid Hush hush by OKKVLT KɅTT and the dreaming but sinister mid tempo of S.O.V, the result of the Milan-based project Darker Side, among the others, strongly recalls the early Dario Argento movies, but in a more Surreal key, as the listener can expect from this label's releases.
It's difficult to decide which episode is the best in an album where several paths have been discovered, different between them but linked by their mystical-lysergic-experiental mood, but for sure the more particular ones are the very long title track composed by buMpenstein, in which different atmospheres and sonic landscapes coexist and in which the sound expresses very well a state of mental confusion, a different state, experienced by the movie characters. Slow, martial and heavy are the two parts that compose Succubus, composed by MSV and recited by Alena. Also here, the experience and the stimulation of the suggestions are surely more important than the music itself, a flow in which it's possible to let ourselves go until it's possible to reach a mystical vision, represented by Ecstasy of St.Valentine, this one by Helena Markos, a lysergic and abstract episode, an artificial and estranging experience that has in itself the same time  good and evil: here the listener is invited to ponder about it. The very good, danceable and straight, Blood, by the UK-based Sidewalks and Skeletons, closes the album, aiming at a dancefloor for the witch house generation, as stated by some critic regarding the movie.
All the peculiar trademarks of the label can be found here: synthetic, lysergic bad trip-like landscapes, barely understandable, almost inhuman, vocals coming from an isolated angle of the universe, very slow rhythms and very, very acid-derived musical elements. Surely not an easy album to listen and listen again, but it's really not useful trying to catch every frame of this soundtrack, because here  the listening and the visual experiences are on an important, very personal, and out of the human understanding level.
Someone has defined the movie characters as "Hansel and Gretel on Ecstasy". Listen to the album and let yourself be guided in your personal one-way journey. You will feel "enraptured".
Label: Phantasma Disques
Voto: 8, 5