Published by Alessandro Violante on January 21, 2021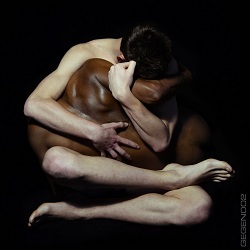 As well as had already happened with each GEGEN Records previous release, also talking about its new release, entitled GEGEN002 "The Grace", offers to the reviewers a chance to talk about the stories of the musicians involved into it. This time, GEGEN has involved five musicians: Oliver Deutschmann, La Fraicheur, Léonard De Léonard, Mar/us, and WarinD. These artists are linked with each other by their music and by their collaboration with GEGEN, but each of them has a different sound and a different story. Oliver Deutschmann is one of the most appreciated techno producers and deejays of these years, who started to release music in 2007 with a large number of labels, and who, in the same year, started Vidab Records, with which he's released music by a large number of artists. Deutschmann is also known for his frequent dj sets at Berghain, known as the temple of techno in Berlin. The French artist Léonard De Léonard releases music since 2002 and he's the founder of Leonizer Records. La Fraicheur is an artist active in Berlin, who released music with several labels.
At the same time, Léonard De Léonard and La Fraicheur have released music together and are residents at GEGEN parties, while Giuseppe De Chiara, known as WarinD, is the founder of WarinD records, with which he's released music by artists such as Blind Delon, Sons Of Hidden and many more. WarinD himself has released his music with labels such as Instruments Of Discipline and Omen Recordings among others and has started to collaborate with GEGEN. Mar/us is another resident at GEGEN parties. In GEGEN002 these artistic paths meet in a vinyl including two new songs by Oliver Deutschmann and La Fraicheur & Léonard De Léonard and two remixes, respectively by Mar/us and WarinD. These two remixes highlight the different approaches to techno music of these two remixers, resulting in two new songs sounding very different from the original versions.
GEGEN002, which will be released on 22nd January 2021, could be described as a techno release in which all the trademarks of the genre clearly emerge. Each song expresses and explores a different aspect of this genre. Wach by Oliver Deutschmann highlights the most "classic" side of techno, as it could be described as an essay of this music, in which all its typical sounds and elements, from the bassdrum to the claps, are included, while in the remix made by the Italian artist Mar/us, the melodic element is put in dialogue with the beautifully and slightly distorted bassdrum of Roland TR-909. Roadkill by Léonard De Léonard shows a slower tempo and introduces industrial-like sounds enriching a minimalist techno song, while the final song, the remix of Roadkill by WarinD, gives to the listener a ticket for a rave, succeeding in evoking an old school atmosphere thanks to the use of a faster tempo, of rearranged "early rave" sounds and of a vocal sample altering the perception of the listener and making him falling into a state of grace. We have four songs beautifully put together, perfect for a vinyl release and ready to be played in dj sets.
However, although it's clear that the listener is mainly interested in knowing which music he should expect to listen on a release, it should be said music is an important element in GEGEN releases, but not the only one. GEGEN is, first of all, about breaking the still existing rules of gender and of the body, making people critically think about the topic. Each GEGEN release is a beautifully-crafted example of this concept. The body is also one of the basic elements of techno music, which, first of all, makes people dance, and the fusion between the bodies well-described by Andrea Galad, who has made the artwork for each GEGEN release, not only highlights this corporeality in a strong and powerful way, but creates the metaphor of the dialogue and the meeting between the Afro-American and European roots of techno music, inviting the listener to break the rules of gender and think about the still existing racism. Galad recalls once again the art of Caravaggio, in a stronger way than in the past, thanks to the use of a dark background on which bodies are twisted in a very similar way to that explored centuries ago by Michelangelo Merisi.
"The Grace" adds a spiritual and ecstatic element to this corporeality, enriching the message of this release in which music and content are equally important, fully representing what GEGEN is about.
Label: GEGEN Records
Rating: 8