Published by Davide Pappalardo on November 24, 2018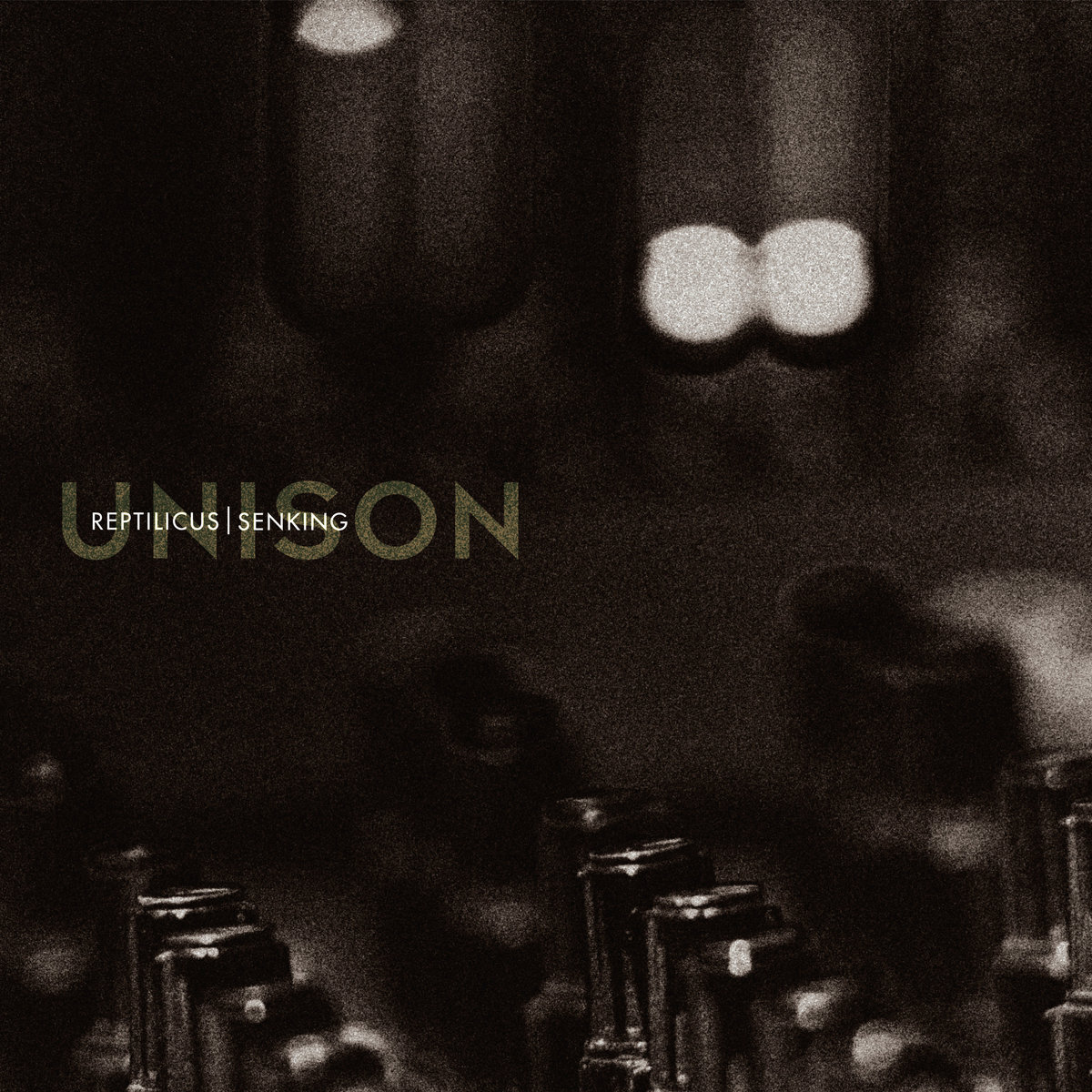 Icelandic duo Reptilicus (G.I. Markússon, Jóhann Eiríksson) and German artist Senking (Jens Massel of Genf, Poto & Cabengo, Visor) join forces in the collaborative album Unison, licensed by Artoffact Records. Expect a highly experimental affair with minimal rhythmic patterns, ambient soundscapes and abstract atmospheres, enriched by intelligent textures and modular sounds.
let's recap the circumstances behind this work: in 2011 Reptilicus, Senking, Rúnar Magnússon (Kul Ful Driv Jøn, Vindva Mei) and Orphx shared the bill at a concert in Toronto, organised by Yatra-Arts' founder Praveer Baijal. Reptilicus, Senking and Rúnar Magnússon were among the artists featured for modular-synthesizer documentary I Dream of Wires.
A session was organized at Grant Avenue Studio in Hamilton, Ontario – The legendary studio founded by the Canadian producers Daniel and Bob Lanois – and collection of vintage modular synthesizers was made available to the artists. Senking and Reptilicus, with Rúnar Magnússon as a third member, were helped by Bob Doidge (Crash Test Dummies, Cowboy Junkies) at the mixing desk, and by Dean Batute when operating the vintage gear, and later the raw results had been reworked by them for seven years, giving us Unison.
The free-form and experimental spirit of the work doesn't equal randomness. Every track has its own mood and sound-world, and sometime the listener will be surprised by the direction taken during the building of some passages. Electro minimalism meets emotional ambiances and vintage synths, and darker turns coexist with eerie soundscapes.
Steep turns start the work with its dark ambient character, soon enriched by micro rhythms and modular sounds. Here the artists evoke a liquid atmosphere, not devoid of pulsating structures and engaging patterns during the flow of the track. Broodier effects and minimal rhythmic obsessions give us a sort of skeletal ambient-techno, and the second half uses its momentum with snare drums and old-school synth-sounds.
Delivery sees hypnotizing slow beats and robotic elements, in a serpentine crescendo made of added sounds and rhythms. Glimpses of throbbing lines, calculated rhythmic games, elegant electronics take us by the hand in a track based on droning structures. The second half of the number showcases an evolution made of filtered sounds, while distant delicate notes can be heard.
Fog frog offers a cinematic ambient line, upon which distorted electronics and modular sounds are layered. A static tension dominates the track, and we can imagine the artists squeezing their synths in order to obtain a sea of vivid soundscapes. The interplay between evocative moments, suspended rhythms, sharper effects and futuristic movements works perfectly, and the addition of piano notes gives us an emotional finale.
Independent access to white noise ends the album with its experimental nature, juxtaposing slow rhythms and crawling mantras. A droning pattern is the main theme of the track, supported by steady snare sounds and static lines; distorted atmospheres and engaging rhythmic structures are used in an effective way.
A perfect example of experimental electronic music with a cause and direction, Unison offers way more than interesting sounds and cerebral solutions. Any track has its own story and can be enjoyed for its musicality, be it hidden or clearly displayed. A good measure of human emotions and electronic coldness conjures a moody sound, in which light and darkness have their say. The expertise of the involved artists allows us to experience both an artistic piece of music, both an enjoyable affair with genuine musical elements.
Label: Artoffact Records
Rating: 8