Published by Davide Pappalardo on February 4, 2020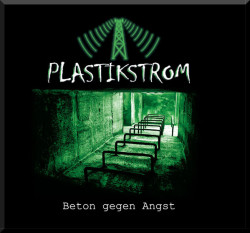 Plastikstrom is the duo composed of Jürgen Schips and Matthias Günzler, previously in goth rock project Darc Entries. Their sound is rooted in German darkwave/EBM with a soft spot for early 90's minimalsynth structures. Think of early Welle: Erdball, Wolfsheim, Beborn Beton, Dance Or Die, Project Pitchfork, to get a picture: robust rhythms, pounding synth sounds, sometimes shouted, sometimes melodic vocals deliveries.
Beton gegen Angst is their debut album for Young And Cold Records, consisting in 13 brand new tracks where they explore the aforementioned sound in its various facets and possibilities. An underground attitude informs the work, staying true to the duo's aim. You won't find any concession to current techno-industrial, or even resemblance with the recent American neo-EBM movement.
Das Fundament introduce us to their world via shrilling effects and monotone synth sounds, in an almost orchestral crescendo recalling early 80's synth-pop instrumentals, It works as an intro for the Title track and its evocative melodies upon which Günzler lays his crawling vocals full of melodramatic pathos. The track slowly moves in its seductive voyage, underlined by a supplicant voice and shouted choruses.
Grosny dwells in minimal rhythms and ominous scenarios, adding nice pads and an infectious refrain indulging in delicate melodies. A taste for atmospheric development is already well showcased in the first steps of the album.
Tote Stadt is an energetic dark-electro pastiche with throbbing bass-lines and robust steel-like drums; the shadow of old-school Project Pitchfork is not very far, and honestly they do a better impression of that sound than current P.P themselves. A "punk" attitude is the spirit of the track, while the unrelenting rhythmic assault and the groovy synth sounds are the body.
Wandertag is a nice, if short, alternative-club moment with lively sound-design and pretty aggressive vocals showing the range and abilities of the singer, who goes well beyond the usual coarse style. Amok is a robotic mantra with strong W:E vibes, a compelling moment with an emotive nature supported by key sounds full of pathos and dramatic vocals.
Beton gegen Angst is a quite well accomplished work, enriched by dramatic atmospheres and different takes on a general theme – German electro-industrial/EBM with dark undertones. The listener will find a lot of melancholic melodies. gothic vibes, hard minimal drums with 4/4 patterns, and the very "Mitteleuropa" vocals and soundscape. A sound which has been neglected for a long time, not very present in the current scene. So, it's nice and interesting to hear a good rendition of it: Plastikstrom know when to stop before going into over-the-top territory or becoming a farce, and more important, they know how to play and make good tunes.
Label: Young And Cold Records
Rating: 7,5