Published by Alessandro Violante on January 26, 2020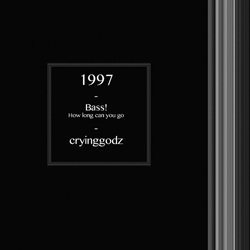 Everytime I started listening to new music I always felt like I was late, like I missed its peak and maybe still I am. We're not in 1997 anymore, but maybe we're living in a new 1997; maybe that's what Kareem seems to tell us with his new release.
Maybe we're experiencing a new Golden Age of techno music, anticipated by the debate about the mainstream development of techno in Europe which happened during the nineties.
We're not living in the nineties anymore, the music market and its distribution has changed, and 1997 itself  is a digital release only. But when we listen to it, it seems that same spirit is up there and running, without having been blurred by time. Kareem's radical aesthetic is still there, loud and clear.
Zhark Recordings Berlin is still alive and kicking, maybe also more today than some years ago, when not so many people were involved in this industrial techno revival.
1997 is a tribute to the past and the present, perfectly coherent with what we're experiencing in techno and industrial music today. It's a sum of the Zeitgeist, music with an attitude.
1997 features three songs in a constant state of flux, yes you can also dance to them, but are also three long mantras evoking life and decay in metropolitan cities, especially Berlin.
Think about Bass! How long can go. Listen to it and you'll instantly walk from Warschauerstraße to Kottbusser Tor to Görlitzerpark, if you've ever been there. The redundant beats and the industrial sounds are something you industrial techno aficionado will enjoy.
With its manipulated siren and its leaden atmosphere, Cryinggodz evokes both Checkpoint Charlie and the history of Berlin and alienation, but the true winner is the titletrack.
A 10 minutes long futurist and futuristic Zang Tumb Tumb for the citizens of these enormous metropolitan cities both full of everything and nothing, overwhelming your mind with blasts of informations, lights, videos and so on. Take a look to the video to better understand the metaphor.
Against this, there's this merciless heavy beat crushing on the listener like a hammer, remembering us who we are and the true essence of our metropolitan life.
Marshall McLuhan would say "The medium is the message". The medium is the music, the message is Kareem's radical aesthetic. The message is what really adds meaning to a sequence of beats, basslines and noises, and Kareem, who is both a musician and a "thinker", here in 1997 demonstrates to be aware of it. Music with attitude. We don't need anything else.
Label: Zhark Recordings Berlin
Rating: 8, 5